Violent encounter: Granger man recovering after brutal road rage attack on Ash Road
By RYAN JELTEMA -
rjeltema@elkharttruth.com
Updated 4 hrs ago 1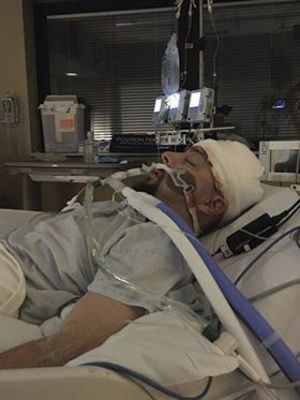 Violent encounter: Granger man recovering after brutal road rage attack on Ash Road
Photo suppliedSean Neil, 36, lies in the intensive care unit on a ventilator at Memorial Hospital in South Bend after undergoing emergency brain surgery hours after a brutal road rage assault on Monday, Dec. 12, 2016.
CLEVELAND TOWNSHIP — Heather Neil had put her daughter to bed and fell asleep herself. Her husband, Sean Neil, decided to make a quick run to the Walmart at Ash Road and Old U.S. 20 near their home.
Heather awoke to an almost unimagineable horror: Police knocking on her door in the middle of the night to tell her Sean, 36, had been rushed to Memorial Hospital in South Bend with massive head injuries after being brutally assaulted during a road rage altercation a few miles north on Ash Road near the Indiana Toll Road.
He underwent emergency surgery hours after the attack to repair a skull fracture and reduce brain swelling, then spent days hooked up to a ventilator. Sean came home from the hospital Friday, but still faces a long road of rehabilitation.
Meanwhile, the man who caused the traumatic injuries less than two weeks before Christmas remains on the loose. Police are asking the public for any information to identify the suspect, who was driving a two-door green Chevrolet pickup truck.
"He has a skull fracture and staples in his head. He will have to miss work, and we are now saddled with crippling hospital bills," Heather said hours after bringing Sean home for the first time after the attack. "I would hope and pray that if someone in the community knows the person that did this, to please come forward and inform the police of their whereabouts."
QUICK, BRUTAL ATTACK
Sean was driving the nearly one mile home from Walmart around 10 p.m. when, according to Sean, he accidentally cut off the man driving the green pickup truck.
The truck proceeded to tailgate Sean very closely. Instead of pulling into his place and show the man where he lives, Sean decided to continue farther north on Ash Road, Heather said.
Near the Toll Road overpass, Sean pulled over, hoping the truck would just pass by and continue on its way. It stopped right behind him.
Sean got out of his red car to tell the man in the truck to just leave him alone. Instead, the man charged at Sean armed with what he believes was a crowbar or tire iron.
One decisive blow to the head knocked Sean unconscious immediately, crumpled in a snowbank along the road.
"Sean has no wounds on his hands or bruising of any kind to indicate a fight or struggle. He has no scratches or bruises on his person other than a bruise on his back where he fell and the wound on his head," Heather said. "This person came at him immediately and left a huge impression on his skull."
A passerby called 911 after finding Sean's car sitting partially in the roadway and him lying in the snowbank. An ambulance transported Sean to Memorial Hospital for treatment of his serious and potentially life-threatening head injuries.
"From what the doctors and nurses relayed to me in the hospital, he was talking in the ambulance and then deteriorated very quickly," Heather said. "When they reached the emergency department at the hospital, he was somewhat coherent, but once again deteriorated and had to be rushed into surgery."
Surgeons performed a craniotomy and placed drains in his head to allow blood and fluid to drain, relieving pressure on his brain. He was placed on a ventilator and moved to the intensive care unit after surgery.
Sean got off the ventilator, began to awake and talk about what happened to him in the middle of the week. He pointed at a board with letters on it to indicate that the man who assaulted him was driving a green two-door Chevrolet pickup truck, but he was unable to provide a physical description of his assailant.
LONG RECOVERY
Sean was deemed well enough to go home on Friday, but continues a regular regimen of speech and physical therapy.
"As the doctors said, traumatic head injuries are touch and go and other problems may not manifest until later," Heather said.
The family, who lives in Granger, also faces a mountain of medical bills while Sean will be unable to work for a while during his recovery.
Heather, a worship leader at Sugar Grove Church in Dunlap, was grateful for an outpouring of support from the church, their friends and the community in general. A GoFundMe page set up by a friend had raised more than $3,000 by Friday evening to help the Neils make ends meet.
"God has truly spared my husband and the father of our children, and we are grateful that he's alive and home as of today," Heather said.
She said Sean, who works in the information technology field, has never been violent toward anyone in the 20 years they've been together – the last 16 years as husband and wife.
"We're kind, honest people who'd give you the shirts off our backs," Heather said.
Sean was acting out of fear and frustration when he got out of his car, said Heather, who conceded that wasn't the best way for him to handle the situation.
"This is certainly a lesson in defusing situations rather than exacerbating them," she said. "But the true issue here is that there is someone driving around Elkhart County that believes it's OK to solve their anger issues with violence. This man could have killed my husband."
The Elkhart County Sheriff's Department Detective Bureau is asking for help identifying the pickup truck driver involved in the incident. Anyone with information is asked to call 574-891-2300 or leave an anonymous tip on the department's website. Tips also can be text messaged anonymously to 847411.
http://www.elkharttruth.com/news/violen ... user-share